Ultimate

Duo - grey
Microfiber mop for dry dusting
Flaps
42 cm
14 cm
Ultimate Duo - grey has all the qualities of Ultimate Duo - white but we have dedicated it to electrostaticdry mopping. It is used dry and picks up hair, fur and other larger bitsof dirt at the front, while the back deals with smaller particles.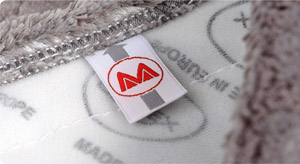 As the name suggests, Ultimate Duo - grey uses the patented Ultimate technology. Thanks to its rigid filaments that work against the pile, the front of Ultimate Duo - grey (everted side edge) lifts dirt and holds it within its microfiber system, never to let it go. The softer rear, made of 100% microfiber, finishes the job perfectly.
Its grey colour was sensibly chosen to look good at all times. It's ideal for dry mopping floors of all sizes as it has many brothers and sisters. The baby of the family is 50 cm and the biggest 1.20m. This can be used to easily dry mop hotel lobbies, gyms, even airport lounges, etc.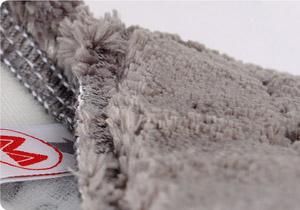 On the most dirty surfaces, before washing the mop (500-wash life!), it's advisable to vacuum it to remove the larger bits of dirt held within its strands. This prevents the washing machine getting dirty!
Scissor mops pale into insignificance with the arrival of the new generation!
Packaging

Box of 10 bags of 10 Ultimate Duo - grey
Construction

V.M.P. Technology (Velvet Microfiber Polyester)
Composition

80% microfiber (100% polyester) 20% polyester
Dimensional stability

-2.6% in length | 0% in width
Abrasion

The product does not cause damage to the surface if the manufacturer's recommendations are followed by the user
Packaging

Box of 10 bags of 10 Ultimate Duo - grey
Construction

V.M.P. Technology (Velvet Microfiber Polyester)
Composition

80% microfiber (100% polyester) 20% polyester
Dimensional stability

-2.6% in length | 0% in width
Abrasion

The product does not cause damage to the surface if the manufacturer's recommendations are followed by the user
Packaging

Box of 10 bags of 10 Ultimate Duo - grey
Construction

V.M.P. Technology (Velvet Microfiber Polyester)
Composition

80% microfiber (100% polyester) 20% polyester
Dimensional stability

-2.6% in length | 0% in width
Abrasion

The product does not cause damage to the surface if the manufacturer's recommendations are followed by the user
Packaging

Box of 10 bags of 10 Ultimate Duo - grey
Construction

V.M.P. Technology (Velvet Microfiber Polyester)
Composition

80% microfiber (100% polyester) 20% polyester
Dimensional stability

-2.6% in length | 0% in width
Abrasion

The product does not cause damage to the surface if the manufacturer's recommendations are followed by the user
Packaging

Box of 10 bags of 10 Ultimate Duo - grey
Construction

V.M.P. Technology (Velvet Microfiber Polyester)
Absorption rate (water)

2 mops for 1/2 L of solution
Composition

80% microfiber (100% polyester) 20% polyester
Dimensional stability

-2.6% in length | 0% in width
Abrasion

The product does not cause damage to the surface if the manufacturer's recommendations are followed by the user