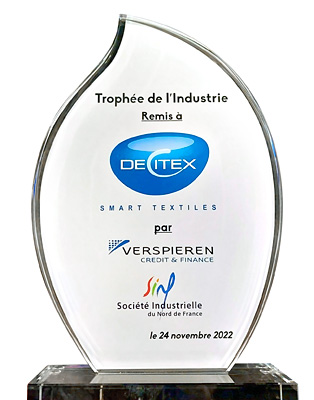 Corporate Social Responsibility (CSR) Award
Decitex was honored to receive the CSR Award from Verspieren Credit & Finance, during a very special evening of the Trophées de l'Industrie organized by Société Industrielle Nord de France (SINF). Thank you to all the people that took part in this event! This CSR Award highlights the actions of Decitex, within the 3E Concept group, in favor of the environmental transition. The objective is to evolve towards a new economic and social model that provides a global and sustainable solution to the major environmental challenges of our century and the threats to our planet.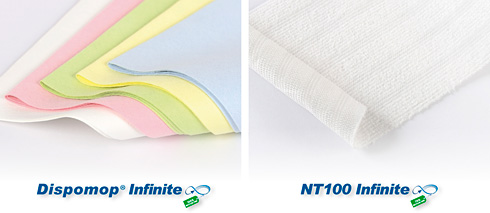 Creation of the Infinite range
After creating the Ultimate 3D Infinite with 100% recycled yarn, Decitex launches the NT100 Infinite microfiber cloth and the Dispomop Infinite.
The Ultimate 3D Infinite
The latest (r)evolution in chemical-free floor cleaning!
We are proud to present the Ultimate 3D Infinite made from 100 % recycled yarn (rPET). This microfiber mop is eco-designed and certified by the Nordic Swan ecolabel.
It has been tested based on EN16615 standard, which demonstrates a bacteriological reduction of 99.999 % on staphylococcus aureus (-5.01 log). It is the essential mop for all your floor bio-cleaning protocols. With a featherweight of only 26 g and an extremely low micro-particle release rate (category A - Low), the Ultimate 3D Infinite is the perfect marriage between textile innovation and respect for the environment. You finally have the ideal answer to all your needs.
At Decitex, we are constantly seeking to innovate while improving the design and carbon footprint of each of our products. Every time you choose a product from a recycling center, it is another step towards contributing to the circular economy and environmental protection.


ISO 9001:2015 certification
Decitex is proud to announce that it has obtained the renewal of its certification according to ISO 9001:2015 for the implementation and maintenance of a quality management system in compliance with the standard.
The proof of conformity was demonstrated in the certification audit report n°20-09-0600-F.

Download the certificate

Swan Nordic Ecolabel certification
The Nordic Swan ecolabel certifies the quality of a product according to several criteria as well as an environmentally friendly production process. This is why the Swan is in agreement with the Decitex values ​​and the following pages will explain how.
Discover the 17 Swan-certified products in the range.

Download our Swan's doc to learn more about this label

Decitex collaborates with the CHU Grenoble Alpes
In 2017, CHU Grenoble Alpes (CHUGA) turned to biocleaning of floors with microfiber and water. Now, thanks to the abilities of the microfiber mops developed by Decitex, this French hospital no longer uses any detergent products to clean and disinfect its floors.
In 2019, the CHUGA teams present the environmental and economic advantages of such an approach during a video report by HOSPITALIA Magazine.
Watch the video on floors cleaning with microfiber and water at CHU Grenoble Alpes.


The Ultimate 3D S. Café® technology
Turning coffee grounds into a microfibre mop!
Every day, Coffee shops generate huge coffee grounds waste. Decitex's partners collect this waste from around the world and recycle the coffee grounds as a yarn. From that yarn, Decitex has designed the first cradle to cradle microfiber mop made from coffee grounds. This innovation demonstrates unique benefits. The mop dries 200 times quicker than a standard mop and has natural odour control.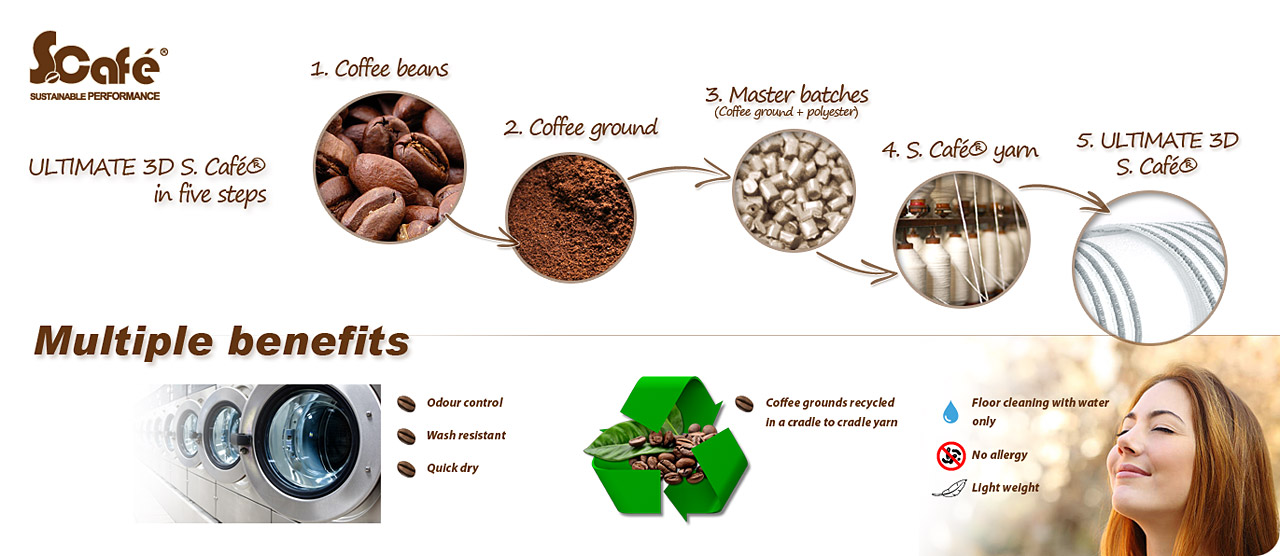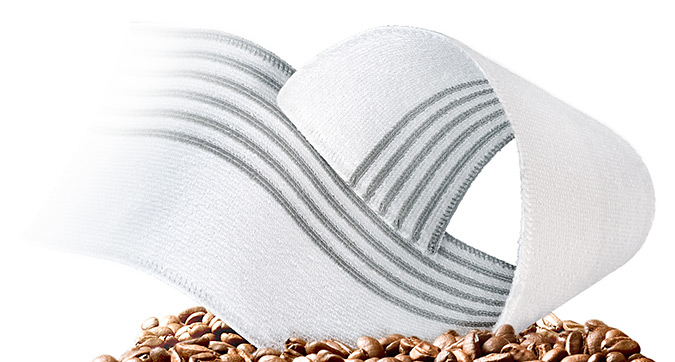 ISO 9001:2015 certification
Decitex is proud to announce that it has obtained certification to ISO 9001:2015 for the implementation and maintenance of a quality management system in compliance with the standard.
The proof of conformity was demonstrated in the certification audit report n°18-02-0118-F.

Download the certificate

New building in France
Guillaume Leymonerie, founder of 3E Concept group has brought the two companies Decitex and H2O at Home, onto a new site based at Hallennes-Lez-Haubourdin (10 min from Lille).
This passive energy building represents a small concentration of innovation and is extremely environmentally friendly.
HEATING NEEDS ARE 3 TIMES LESS THAN REQUIRED BY CURRENT HEATING REGULATIONS
The heating requirements of the building are about 15 kWh/m². year
Those of a standard new building are about 50 kWh/m².year
Those of an old building are about 200 kWh/m².year
AIR-TIGHTNESS IS 4 TIMES MORE EFFICIENT THAN CURRENT THERMAL REGULATIONS
It's as if there were a hole equivalent to the size of a driving licence that lets the air in
A standard new building would have a hole equivalent to the size of a sheet of A4.
An old building would have a hole equivalent to the size of a sheet of A3
TOTAL ENERGY CONSUMPTION < 120 KWH/M2.YEAR
Total energy consumption of a standard new building : about 240 kWh/m².year
Total energy consumption of an old building : about 350 kWh/m².year
---
New building in Romania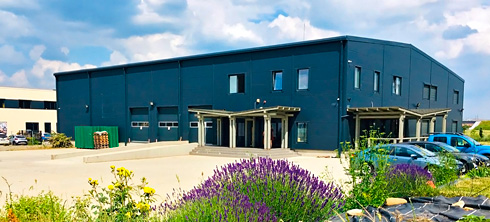 The Decitex Romania building has taken up the challenge on the production side:
Respect for the environment in its choice of cladding and insulated roof panels with rockwool.
Underfloor heating and cooling, with a reflective screen under the screed, that allows for a smaller low temperature consumption in winter. Auxiliary air conditioning in summer using textile pulsing pipework as well as suppressing draughts bringinig in particules.
Induction lighting for the production area, providing close to daylight quality 24 hours a day. Number of lux, UGR and RA specific for each stage of the operation.
Isolation of each space according to its function (loading bays-stockroom-production-administration-work areas) and automatic and independent control heating/air con/lighting of each zone so as to be in complete control of energy consumption.
Work areas specially conceived for disabled personnel (Downs Syndrome) or reduced mobility.
Vegetable garden and organic orchard for relaxation and seasonal consumption by the team.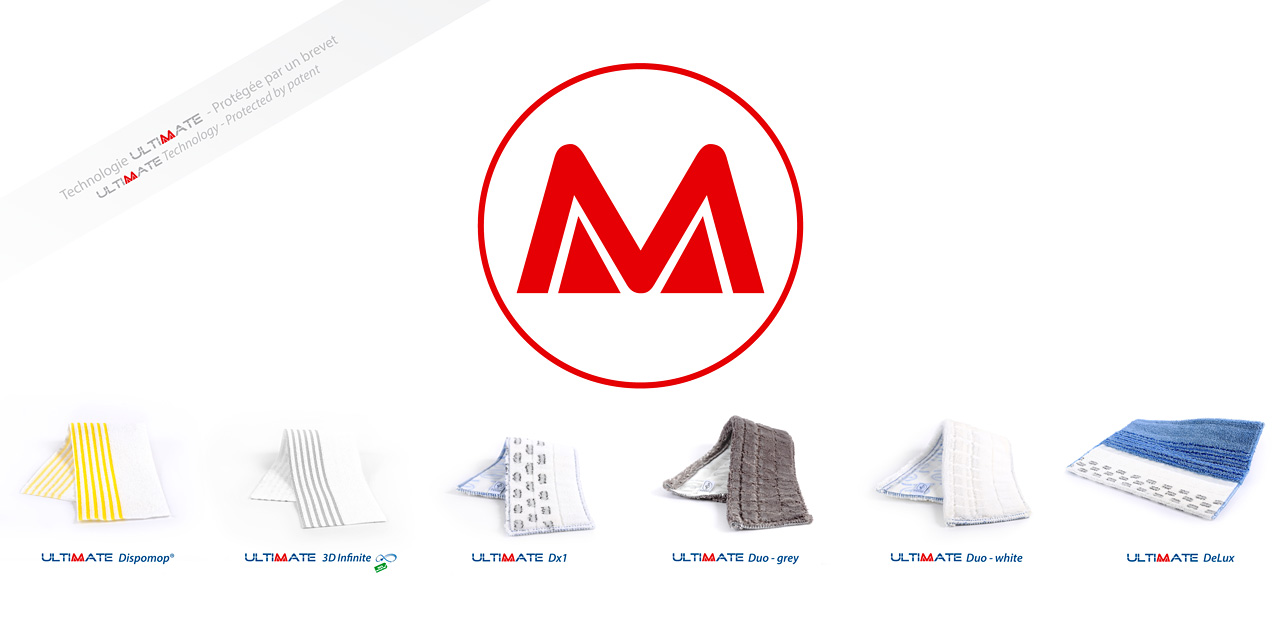 Ultimate technology is patented
No more need to choose between performance and ergonomics!
With more microfiber, Ultimate technology boosts efficiency and helps it glide easily on the floor: the front of the mop with its alternating design lifts dirt and holds it in its microfiber base so it can't escape. It is this front part that lets it glide easily on non-slip floors. The softer back, made of 100% microfiber, gives the surface a perfect finish by absorbing grease and finer dirt. Getting a perfect result in just one pass becomes child's play.
Patented by Decitex, Ultimate technology allows its range of microfiber mops to glide easily to cover the largest surfaces. It's also colorful with a choice of blue, yellow, green, red or grey, all providing the ultimate in microfiber cleaning.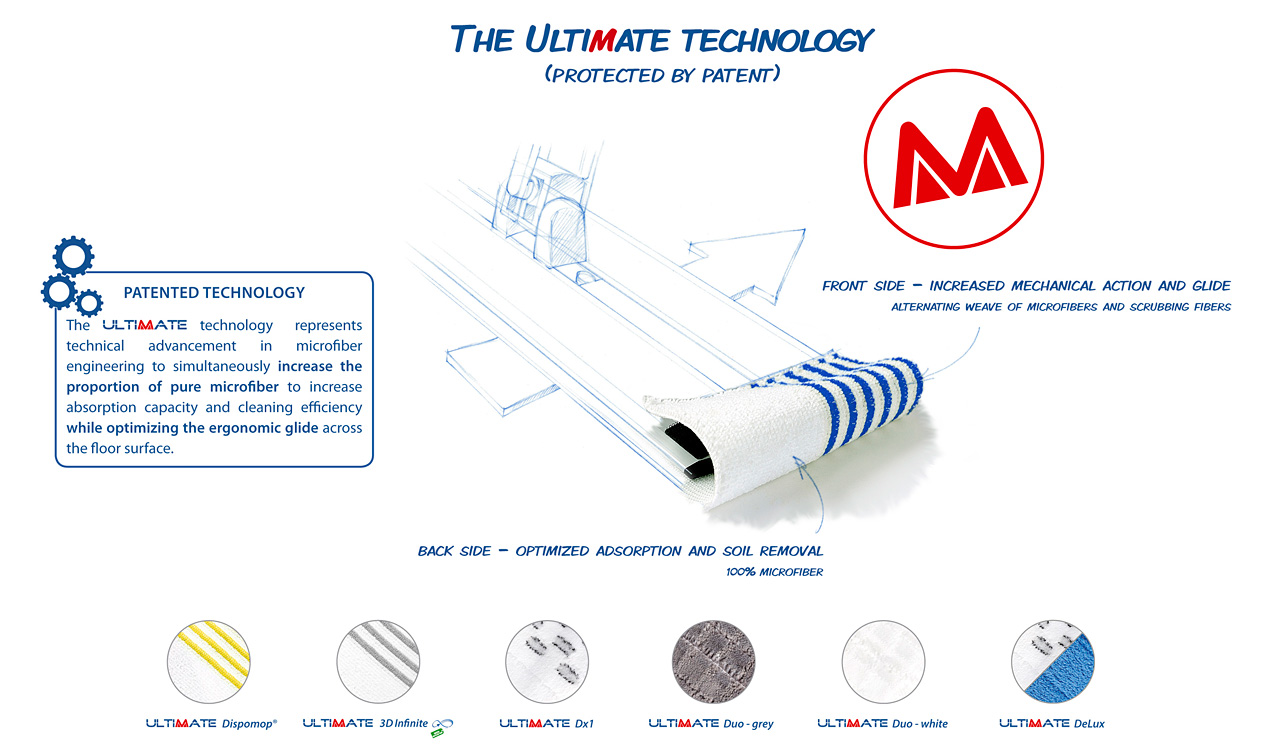 Ultimate technology is applied to all the mops in the Decitex range, offering a wide choice from single-use to long-life products lasting over 600 washes. The most innovative mops are the Ultimate 3D Infinite, used by famous hospitals with water as the only additive for a dry weight of just 26 g!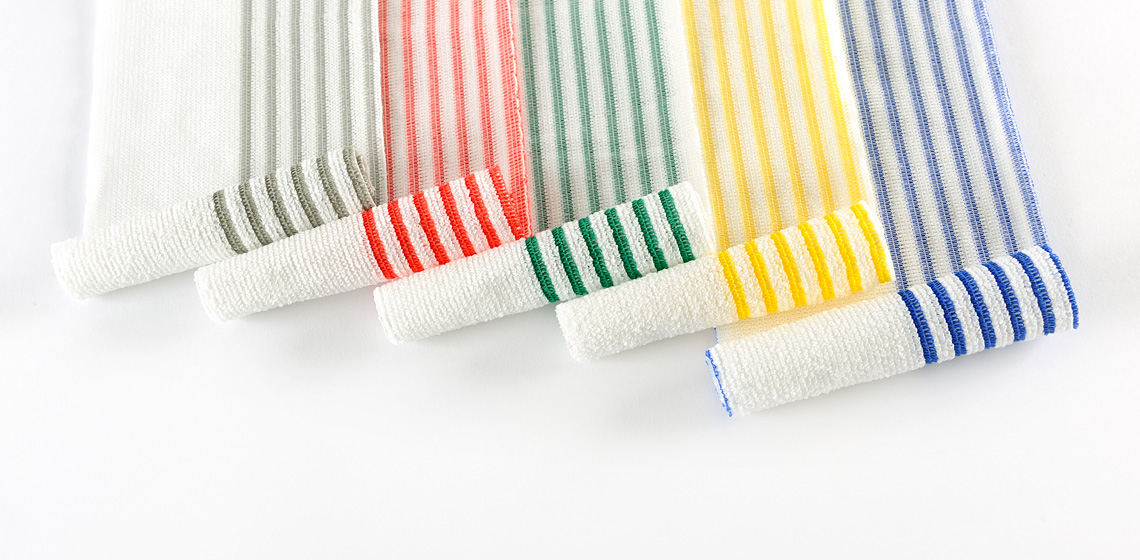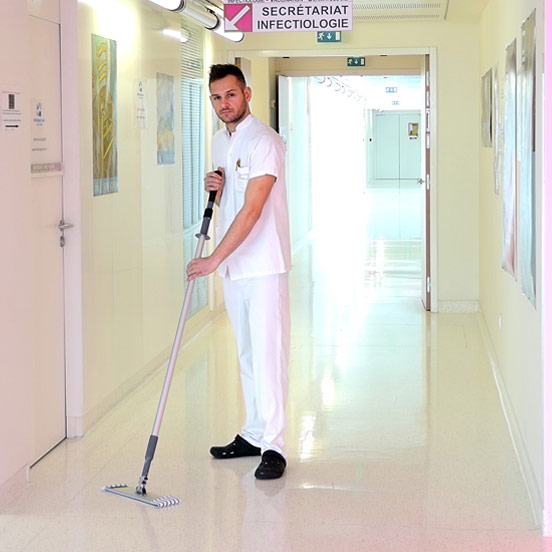 Bio-cleaning of floors with water
The CHITS (Centre Hospitalier Intercommunal de Toulon) in Toulon is an avant-garde hospital, always seeking to innovate in every field. 
This explains how this major hospital came to decide to sweep their floors with a dry microfibre and clean them simply with water with a Decitex cleaning system composed of Fluid and the Dispomop® 3D system. This technique resulted in a sustainable development whose object was to dramatically reduce the amount of detergents and disinfectants used by the hospital which are so harmful to the environment. With this new method, the hospital effectively recovers virtually 100% of its dust and bacteria.  This method has been the only one used by their resuscitation service since 2012. 
Samples taken after 2 years of use have shown that there has been no change in the level of bacteria either on the floors or in terms of the bacterial ecology of patients at the CHITS. Management has therefore decided to extend the method throughout the entire establishment (1200 beds) thus becoming the first hospital to clean its floors with water using a short use microfibre mop. The cleaned microfibres are identified by the services dept and returned after use.
On a day to day basis the advantages of this method are not inconsiderable. Above all, since microfibre is lighter than cotton, its easier to carry about and should also provoke fewer musculosceletic problems for staff. The floors dry quicker, which in turn reduces the risks of allergies and health problems associated with contact and repeated and prolonged breathing in of chemical products. The service has also decided to do another analysis of work related troubles with this new procedure in association with the hygiene, health and safety committee.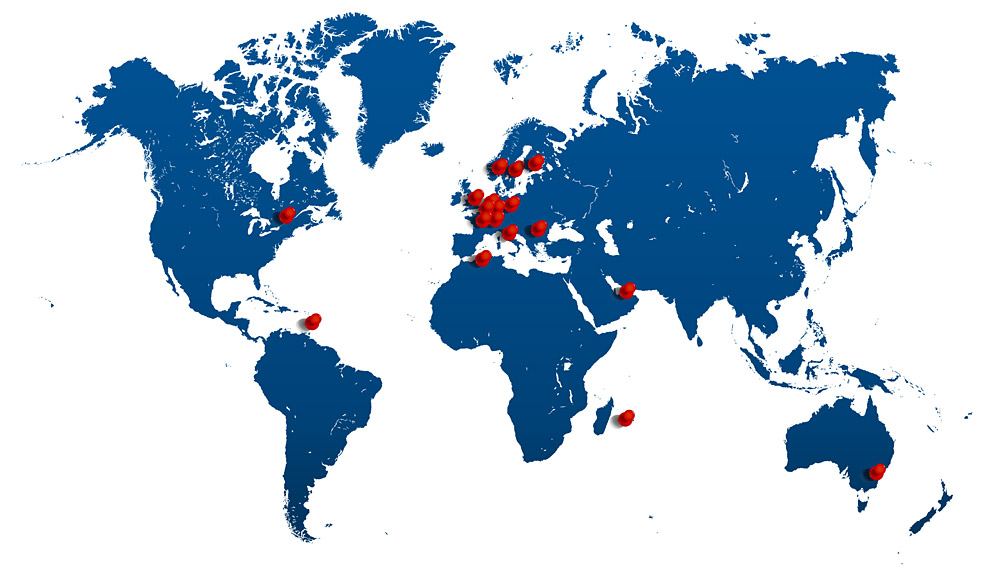 Decitex international business
After a long period of innovation Decitex finalised a unique concept for professional microfibre cleaning. The range, seen in all sorts of situations over many years, has been recognised and endorsed by French users who vote for it on a daily basis. So it would have been a pity not to let the rest of the world know about it!
Sweden, a pioneer in microfibre, was one of the first export markets to recognise the quality of the Decitex innovation and to roll out the range. Countries further away like Australia - very committed to cutting-edge technology - have also become a privileged partner of Decitex. The United Arab Emirates who are building the most modern hospitals in the world put their trust in Decitex for their bio hazard cleaning. In Europe, English hospitals also use Decitex systems whilst Germany represents our next challenge. The 3E Concept group, already established in the USA with its H20 at Home subsidiary, gives Decitex the opportunity for an easier roll-out by using a logistics set-up already in place.
The Decitex range exceeds international standards and brings a degree of performance and implementation that makes for easy adoption. Access to information is instant with simple product sheets and illustrated user guides. Decitex is well practised in the art of communicating its know-how to its international partners and keeping in touch with their users' requirements on site.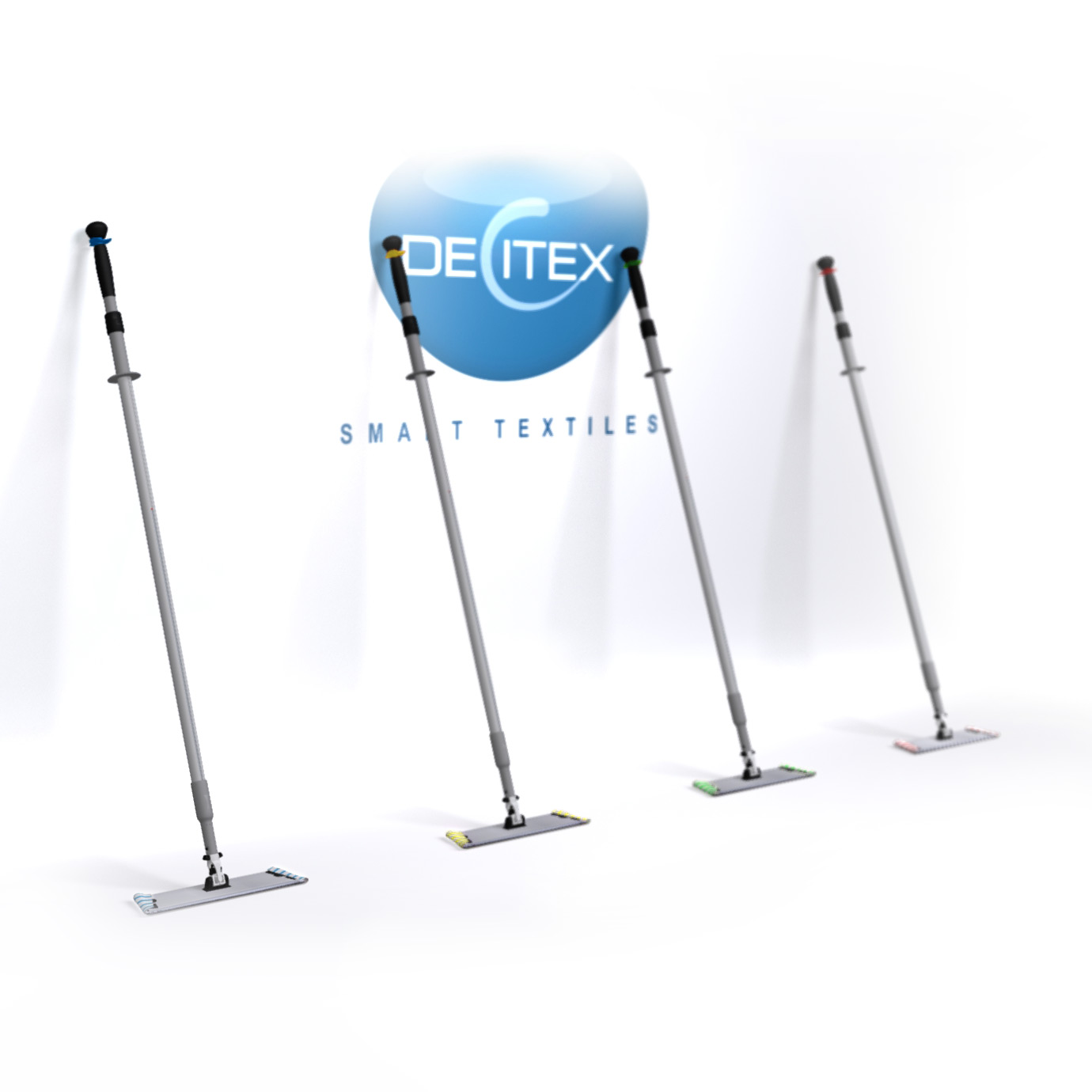 Launching of the FLUID
Fluid is a fashionable and ergonomic fluid-containing handle created by the team at R&D Decitex and its Design agency. Fluid required 2 years of research before all the technical and aesthetic considerations could be brought together create the most complete, effective and attractive reservoir handle on the market. During development it was tested at McDonald's so it could be subjected to the needs of professional users. In 2010 Fluid was presented for the first time at the Amsterdam ISSA Interclean Fair, the most important European Fair for the hygene industry.
The Fluid was also chosen and shown at the Cités des Sciences et de l'Industrie in Paris during the Observeur du design 2011.
Between March 2011 and October 2014, a further 8 product developments have made Fluid the light and effective professional tool that we know today.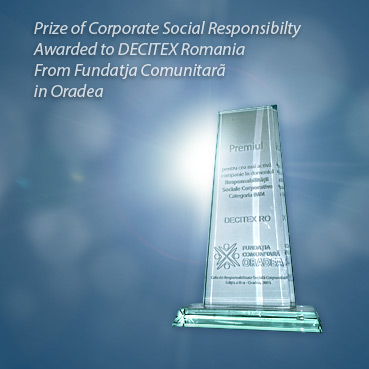 Creation of Decitex RO
Decitex, committed from the outset to managing production locally, set out to create international centres within Europe. Faithful to its founding principles and with quality control central to its skill-base, Decitex decided to create a second production facility in Romania and to keep its automated French production for the most innovative of its product ranges. With cutting edge bi-lingual management, Decitex RO, based in Oradea, has become a natural extension of Decitex and subscribes enthusiastically to group values.
10 years after its establishment, Decitex RO with its ORADEA foundation has been rewarded with the PME category social responsibility prize recognising its adoption of handicapped and marginalised people into its professional environment. Our director, Raluca, has been nominated in the category of managers most involved in sustainable development. Our director Cătălin, appears in the 2015 list of the 40 Romanians most involved in changing the world by seeking to improve relations between citizen and state.
In order to create for Decitex the best conditions for its international expansion, 2016 sees Decitex RO invest in a new building that will allow it to triple its production capacity.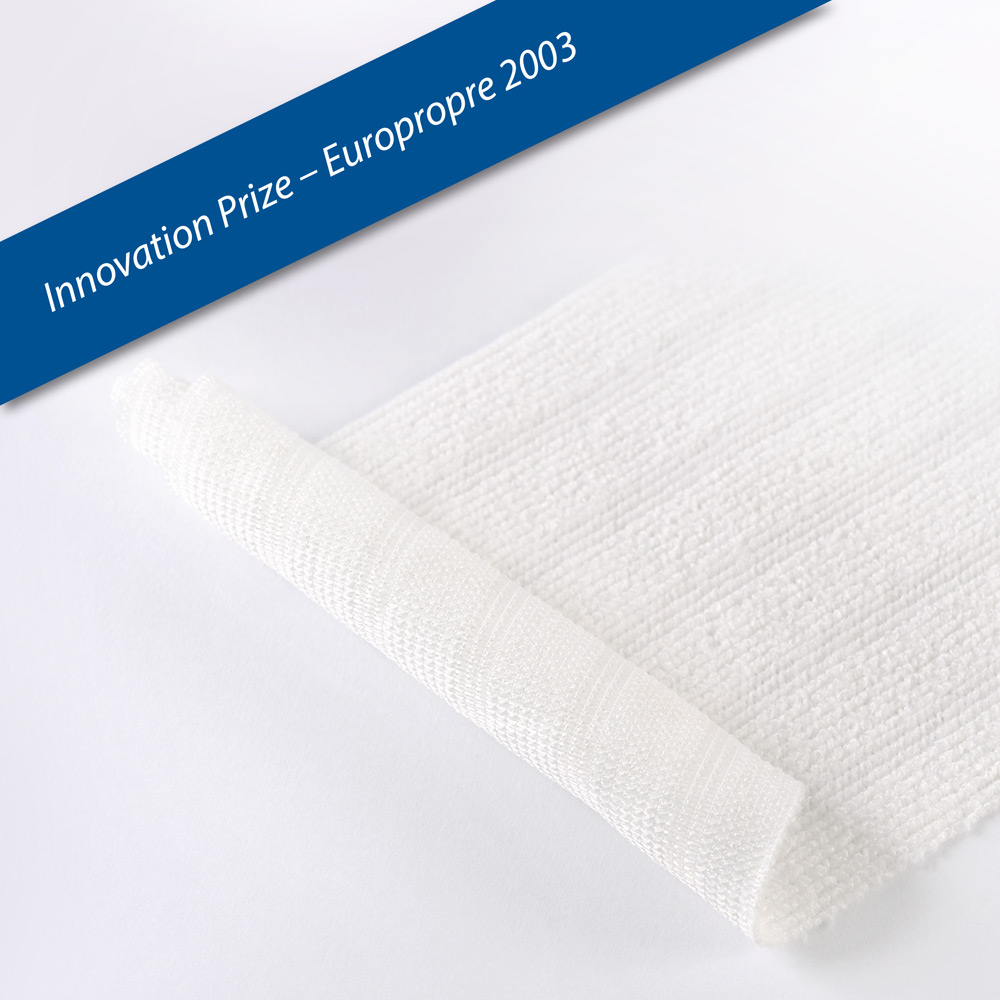 Launching of the Dispomop®
In 2003, Decitex was awarded the prize for innovation for the Dispomop® at the Europropre Fair: the first single use microfibre mop! Since then it's been an amazing ride! In our workshop 15 minutes from Lille in France, the Dispomop® leaves the production line at the rate of 60 000 per day. I production member is enough to recreate this miracle every 7 hours.
How does one credit the fact that such a fine textile is able to clean operating theatres, resuscitation units, Fire and Ambulance service vehicles and even vertical surfaces in pharmaceutical establishments? Because the independent laboratory COFRAC gave us the scientific proof. They rated the Dispomop® according to the Agro EN13697 standard and showed that it succeeded in eliminating 99,999% of bacteria with just water!
Since 2003, the Dispomop® has proved itself by becoming the market leader. And because Decitex has been totally thought through, its packaging is only 15 microns and oxo-biodegradable Finally, the Dispomop® is the ideal back-up product in the case either of contamination or unavailability of the usual product and all that is achieved with no particulate release thanks to its seams sealed by ultrasound.

Creation of Decitex
Founded in July 2000 by Guillaume Leymonerie, Chief Executive of the 3E Concept group, Decitex specialises in the development, manufacture and adaptation of high-tech textiles destined for professional wiping-up applications.
From the beginning the company has made its mark by proposing innovative products developed by its in-house teams. Today, it is already ranked nationally as number 2 in the realm of specifically targeted microfibres. Despite this, the strong growth and proven effectiveness of Decitex can't simply be explained by the very high quality of its products or the commitment to finding innovative solutions through research and development. The entire staff and management share and promote a philosophy and set of core values that are at the heart of the company's identity, and the major driver of Decitex. All the stakeholders in the company reflect human values of listening, respect for the environment and commitment to their clients and partners.
These core values at the forefront of their professional relationships outside the company, can equally be seen in the way staff are encouraged to develop a high level of autonomy and a team spirit focussed on the needs of the clients. The Decitex teams aren't satisfied to simply come up with solutions that are best adapted and best respond to the brief. They also have to reflect the Company's own highest standards in every step they take during development, manufacture, sales and distribution - in close partnership with the client.