PAD
PAD matching with disposable and short life microfiber mops
PAD is a sort of rectangular strip, 40x9.5 cm, quite thick with one black side (microfiber mop side) and one white side (to be attached to the Hook & loop frame). It's used to provide greater softness and maximise cleaning on any surface by disposable and short life Decitex mops.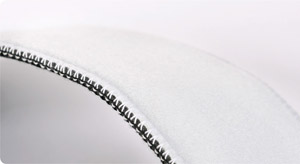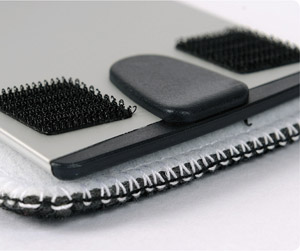 PAD is an essential product for improving contact with the floor by the finest and most innovative microfiber mops in the Decitex range. For dry mopping, the Dry Dispomop® gauze. For damp mopping, the disposable Dispomop® and Ultimate Dispomop® or the short life Dispomop® 3D and Ultimate 3D Infinite.
The good news is that Decitex has decided to provide a PAD in each box of the mops listed above (except for the Dry Dispomop® gauze). So everything becomes simple: you can concentrate on the essentials as your new PAD replaces the old one when you open a new box of disposable or short life mops! No specific order needed.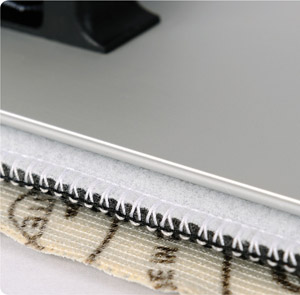 Lastly, PAD is a hygienic tool since it's hydrophobic (doesn't absorb water) so bacteria can't grow inside it. Once in place on the frame, it stays there its entire life (4 to 6 months) and is disinfected with the frame by soaking in disinfectant solution as you currently do.
Packaging

Box of 35 bags of 2 PADs
Composition

Closed cell polyolefin foam
Counterpart

3 hydrophobic layers
Foam specificities

Low water absorption values - Inert to a wide range of chemicals - No odour - Ecologically and chemically neutral - Safe disposal by recycling, dumping or incineration
Packaging

Box of 35 bags of 2 Pads
Composition

Closed cell polyolefin foam
Counterpart

3 hydrophobic layers
Foam specificities

Low water absorption values - Inert to a wide range of chemicals - No odour - Ecologically and chemically neutral - Safe disposal by recycling, dumping or incineration
Matching products
Premium aluminium frame with movable ball joint for easy access under furnitures
Short life microfiber mop made of 100 % recycled material
Bleu
Jaune
Vert
Rouge
Gris