Dispomop® Infinite
Disposable microfiber mop made of 100 % recycled material
Dispomop® came into being in 2003 and was awarded the prize for innovation at the Europropre tradeshow that year, in France, as the first disposable microfiber mop. Since then, it has come a long way and today it also exists in a new version made of 100 % recycled material.
The Dispomop® Infinite, produced in our workshop 15 minutes from Lille in France, in an ultralow energy building, comes out of the ultrasonic cutting line at a rate of 60,000 units per day. We need just one staff member at each post to work this miracle and make this bestseller the perfect floor cleaning product in risk contamination areas. That's how responsive DECITEX can be to your needs.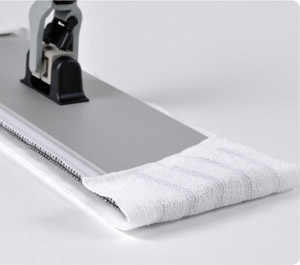 How can we believe that such a thin textile can clean operating theatres, intensive care units, fire and rescue services and even floors or vertical surfaces in the pharmaceutical industry? Because we're experts of course but also because a COFRAC (French Accreditation Committee) laboratory demonstrated it scientifically. The latter assessed Dispomop® Infinite in accordance with the EN16615 standard. The capacity of Dispomop® Infinite to remove bacteria from surfaces and hold them in its unique 100 % polyester microfiber achieves a 4.34 log reduction. Simply put, it can eliminate more than 99.9954 % of bacteria from the surface using water alone!
Dispomop® Infinite doesn't just offer hygienists cross-contamination control or a cutting-edge bacteriological level, it's also easy to use and fits onto standard Hook & loop handles and frames on the market using the PAD provided in each box. No need to invest in complex equipment, manage spare parts or change working habits, ergonomic and lightweight, Dispomop® Infinite adapts to its environment.
This disposable French microfiber has a proven track record as the leading disposable microfiber mop on the market since 2003. And because Decitex tends to see things through, the Dispomop® Infinite packaging is just 15 microns and is oxo-biodegradable (one for the environment!). Lastly, it demonstrates versatility as an ideal back-up product in emergencies (infection, if the usual mop strip breaks, etc.) and no particle release thanks to the ultrasonic cutting of its sealed edges.
Packaging

Box of 5 bags of 50 Dispomop® Infinite / 1 Pad free in each box of 250 Dispomop® Infinite
Construction

Warp knitting
Absorption rate (water)

13 Dispomop® Infinite for 1/2 L of solution
Finish

Ultrasonic cutting
Composition

70% microfiber (100% recycled polyester) / 30% recycled polyester