Chronodry
Microfiber kitchen towel for drying dishes
Chronodry takes its name from its rapid drying capacity. It's a microfiber cloth with instant drying power, leaving no mark or fluff and drying rapidly after use so it's always ready to go.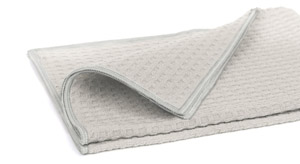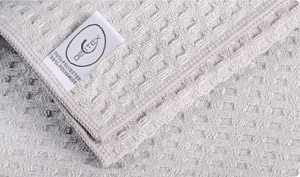 Its honeycomb structure allows it to glide over surfaces, from glass to glass with infinite ease. Chronodry is made up of bumps and hollows offering a remarkable touch and solid manual protection.
Chronodry's large size (45x60 cm) prevents the user from leaving fingerprints everywhere. You can pick up a glass by the stem and reach right to the bottom to dry every last drop.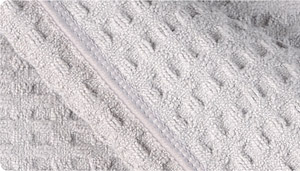 It leaves no fluff, can be washed 300 times, remains stable when washed and is 100% microfiber (70% polyester / 30% polyamide). What more could you want?
Oh yes, it's grey so it remains clean and presentable at all times.
Packaging

Box of 10 bags of 1 Chronodry
Construction

Jacquard woven
Yarn size

Continuous filament 0.20 dTex
Composition

100% microfiber (70% polyester / 30% polyamide)
Dimensional stability

-0.5% in length | -3.5% in width
Abrasion

The product does not cause damage to the surface if the manufacturer's recommendations are followed by the user