Ultimate

3D Infinite
Short life microfiber mop made of 100 % recycled material
A microfiber mop made of 100% recycled yarn is no longer a sweet ecological dream! The idea might have seemed too daring a few years ago, but today the textile industry can make the unimaginable possible! The Ultimate 3D Infinite advances textile technology innovation like you've never seen before.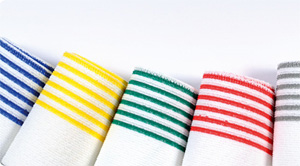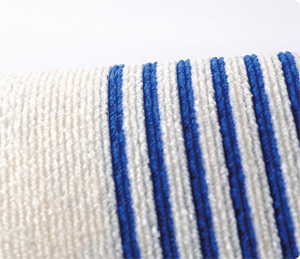 The Ultimate 3D Infinite, is made of 100 % recycled material and has an extremely low micro-particle loss rate (category A - Low). Its 80 washes are guaranteed to last in the most extreme conditions (use of bleach, high washing or drying temperatures, etc.). Both light (26 g) and ergonomic, the Ultimate 3D Infinite reduces consumption of water, chemicals, laundry, loss...
Made in our workshops, the Ultimate 3D Infinite glides better and covers larger surfaces thanks to the patented Ultimate technology: the front of the mop, with its alternating design, removes dirt and the 100% microfiber back holds it while absorbing grease.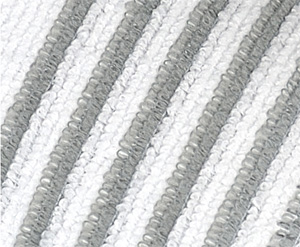 Packaging

Box of 4 bags of 25 Ultimate 3D Infinite / 2 PADS free in each box
Construction

Warp knitting + double sided warp knitting with Hook & loop backing
Absorption rate (water)

4.5 Ultimate 3D Infinite for 1/2 L of solution
Finish

Ultrasonic cutting
Composition

100% polyester / 80 %microfiber - 100% recycled yarn
Dimensional stability

-4.5% in length | -0.5% in width
Abrasion

The product does not cause damage to the surface if the manufacturer's recommendations are followed by the user