Twist M600
Microfiber mop for steam cleaning and smooth floor surfaces
Twist M600 is the last born of the M600 range and the first with a 100 % polyester floor side: 50 % in microfiber for absorption and take of dirt and 50 % non microfiber to facilitate the glidability on the floor and reenforce the mechanical effect. Those 2 threads are twisted together within each loop to obtain an uniform result of cleaning.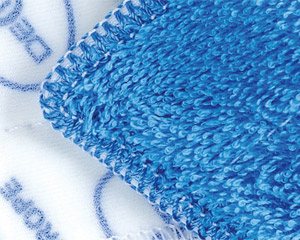 Twist M600 is above all an absorption mop capable of leaving a very small amount of water on the surface. Its 100 % microfiber internal layer guarantees additional absorption for cleaning large surfaces. It's the ideal mop in combination with a steam cleaner that requires a mop capable of absorbing excess water so as not to leave wet floors.
It's also great on shiny tiles, where dry water marks are not a good look. The finish is much clearer. Decitex uses a polyester yarn to ensure an extremely hard-wearing finish over time. Its soft Hook & loop, also polyester, adapts easily to all surface irregularities.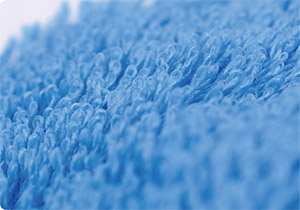 Twist M600 was designed as the European alternative to products imported from Asia. Respecting all the fundamental Decitex techniques, it needed to compete in price terms with global competition.
Twist M600 is perfectly adapted to tenders and cleaning companies who are looking for absorption, scrubbing effect, good resistance to washings, chemicals and high temperatures and an excellent glidability.
Packaging

Box of 10 bags of 10 Twist M600
Construction

Circular knit
Absorption rate (water)

3 Twist M600 for 1/2 L of solution
Composition

50 % microfiber (100 % polyester) / 50 % polyester
Dimensional stability

-3 % in length | -2 % in width
Abrasion

The product does not cause damage to the surface if the manufacturer's recommendations are followed by the user
Packaging

Box of 10 bags of 10 Twist M600
Construction

Circular knit
Absorption rate (water)

3 Twist M600 for 1/2 L of solution
Composition

50 % microfiber (100 % polyester) / 50 % polyester
Dimensional stability

-3 % in length | -2 % in width
Abrasion

The product does not cause damage to the surface if the manufacturer's recommendations are followed by the user
Packaging

Box of 10 bags of 10 Twist M600
Construction

Circular knit
Composition

50 % microfiber (100 % polyester) / 50 % polyester
Dimensional stability

-3 % in length | -2 % in width
Abrasion

The product does not cause damage to the surface if the manufacturer's recommendations are followed by the user