Ultimate 3D S.Café®
New generation short life microfiber mop
« Transforming coffee grounds into a yarn » the idea might have seemed absurd a few years ago but today the textile industry can make the unimaginable possible! The ULTIMATE 3D S.Café® advances textile technology innovation like you've never seen before.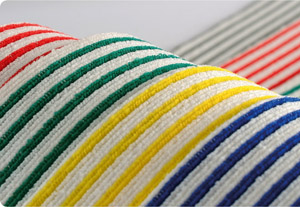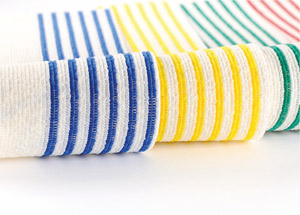 S.Café® technology uses a low temperature, high pressure energy efficient process to combine coffee grounds and microfiber yarn. This cradle-to-cradle certified yarn offers up to 200% faster drying compared to a cotton fiber. The ULTIMATE 3D S.Café® mop is developed on a 100% polyester base and is recyclable. The S.Café® durability with 50 wash guarantee performs in the most extreme conditions (use of bleach, high temperature washing or drying, etc.).
The ULTIMATE 3D S.Café® provides enhanced glide and greater area coverage thanks to the patented Ultimate technology: the front of the mop, with alternating scrub action sections, agitates the soiled floor surface to release particulate and dried-on oily soil which is then absorbed by the mop back section containing 100% microfiber. The S.Café® yarn naturally, absorbs mal odor related to soiled wet mop storage while awaiting laundering.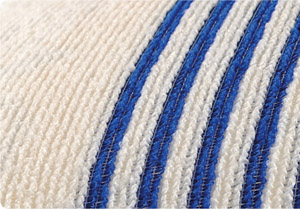 Packaging

Box of 4 bags of 25 Ultimate 3D S.Café® / 2 PADS free in each box
Construction

Warp knitting + nonwoven polyester + Hook & loop backing
Absorption rate (water)

4,5 Ultimate 3D S.Café® for 1/2 L of solution
Finish

Ultrasonic cutting
Composition

80 % microfiber (100 % polyester) / 20 % polyester
Dimensional stability

-4,5 % in length | -0,5 % in width
Abrasion

The product does not cause damage to the surface if the manufacturer's recommendations are followed by the user
Lower washing temperatures help protect the environment
Wash with a suitable washing powder at 60°C and at maximum washing temperatures as necessary