Ultimate

Duo - white
Premium microfiber mop - effective even on non-slip flooring
Pockets
43 cm
14 cm
Safety first, hygiene second… That's the implicit choice you made when choosing your non-slip floor, which is a daily cleaning headache. You're not alone! It's reassuring but that's not enough, which is why Decitex is offering you the solution you've been waiting so long for. And that's not all!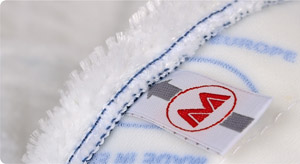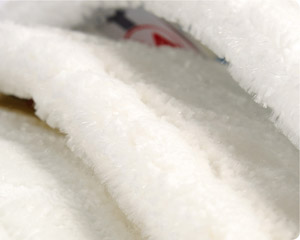 As the name suggests, Ultimate Duo - white uses the patented Ultimate technology. Thanks to its rigid filaments that work against the pile, the front of Ultimate Duo - white (everted side edge) lifts dirt and holds it within its microfiber system, never to let it go. This front side eases the glide on non-slip floors. The softer rear, made of 100% microfiber, finishes the job perfectly.
He who can do more…
Ultimate Duo - white is the most versatile mop in the range and its everted rim will even pick up dirt from along plinths. It also comes in grey (Ultimate Duo - grey) for electrostaticdry mopping, the white one is more dedicated to the wet mop stage but that's up to you!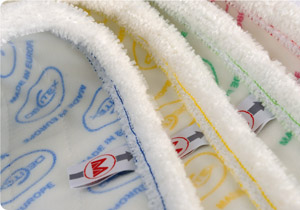 Ultimate Duo - white is very dense (950 g / m²) so it can cover surfaces from 50 to more than100 m² depending on the level of dirt. It's built to last more than 500 washes and thanks to its range of four colours, it can be allocated by work area or facilitate logistical redistribution within your department.
Packaging

Box of 10 bags of 10 Ultimate Duo - white
Construction

V.M.P. Technology (Velvet Microfiber Polyester)
Absorption rate (water)

3 mops for 1/2 L of solution
Composition

80 % microfiber (100 % polyester) 20 % polyester
Dimensional stability

-3,2 % in length | -1,4 % in width
Abrasion

The product does not cause damage to the surface if the manufacturer's recommendations are followed by the user
Packaging

Box of 10 bags of 10 Ultimate Duo - white
Construction

V.M.P. Technology (Velvet Microfiber Polyester)
Absorption rate (water)

2 mops for 1/2 L of solution
Composition

80 % microfiber (100 % polyester) 20 % polyester
Dimensional stability

-3,2 % in length | -1,4 % in width
Abrasion

The product does not cause damage to the surface if the manufacturer's recommendations are followed by the user
Packaging

Box of 10 bags of 10 Ultimate Duo - white
Construction

V.M.P. Technology (Velvet Microfiber Polyester)
Absorption rate (water)

1 mops for 1/2 L of solution
Composition

80 % microfiber (100 % polyester) 20 % polyester
Dimensional stability

-3,2 % in length | -1,4 % in width
Abrasion

The product does not cause damage to the surface if the manufacturer's recommendations are followed by the user
Packaging

Box of 10 bags of 10 Ultimate Duo - white
Construction

V.M.P. Technology (Velvet Microfiber Polyester)
Absorption rate (water)

2 mops for 1/2 L of solution
Composition

80 % microfiber (100 % polyester) 20 % polyester
Dimensional stability

-3,2 % in length | -1,4 % in width
Abrasion

The product does not cause damage to the surface if the manufacturer's recommendations are followed by the user