Ultimate

DX1
New Generation universal microfiber mop
Pockets
43 cm
14 cm
Flaps
42 cm
14 cm
Cheese or dessert? Sometimes the choice isn't easy! With Ultimate technology, there's no need to choose between performance and ergonomics. The Ultimate technology boosts efficiency (higher proportion of microfiber) and makes it glide easily over the floor. The front of the mop, with alternating design, removes dirt while the 100 % microfiber rear holds it in and absorbs grease, for a perfect finish in a single wipe.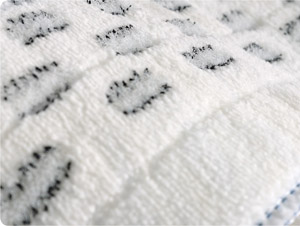 Give up chocolate or ice-cream? Another example of a choice nobody wants to make. Ultimate Dx1 solves the dilemma between European manufacturing and competitive price. The baby of the Dx1 family was created in Europe in response to the tendering market. However, no concession has been made on the Decitex fundamentals: the Polyester Microfiber Velour (VMP) technology makes Ultimate Dx1 a featherweight with a cleaning capacity of more than 30 m², significant resistance to chemical and temperature damage and lower laundry costs.
And its cost-effectiveness doesn't stop with the buyer, as Ultimate Dx1 is designed to optimise costs at all stages. In particular, its light weight makes a difference when it comes to laundry, reducing the associated costs. The colour code facilitates logistical redistribution within the departments and, in certain countries, prevents cross-contaminations.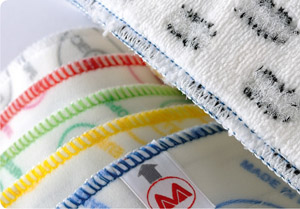 Ultimate Dx1 is designed to adapt to all floor types and can also be used to wash walls or ceilings. Its white colour allows you to see the dirt after use and the result of your work. The scrapers enhance the mechanical effect for easy removal of dirt.
It's a general-purpose bestseller.
Packaging

Box of 10 bags of 10 Ultimate Dx1
Construction

V.M.P. Technology (Velvet Microfiber Polyester)
Absorption rate (water)

4 Ultimate Dx1 for 1/2 L of solution
Composition

95 % microfiber (100 % polyester) / 5 % polyamide
Dimensional stability

-2,2 % in length | -1,1 % in width
Abrasion

The product does not cause damage to the surface if the manufacturer's recommendations are followed by the user
Packaging

Box of 10 bags of 10 Ultimate Dx1
Construction

V.M.P. Technology (Velvet Microfiber Polyester)
Absorption rate (water)

3 Ultimate Dx1 for 1/2 L of solution
Composition

95 % microfiber (100 % polyester) / 5 % polyamide
Dimensional stability

-2,2 % in length | -1,1 % in width
Abrasion

The product does not cause damage to the surface if the manufacturer's recommendations are followed by the user
Packaging

Box of 10 bags of 10 Ultimate Dx1
Construction

V.M.P. Technology (Velvet Microfiber Polyester)
Absorption rate (water)

4 Ultimate Dx1 for 1/2 L of solution
Composition

95 % microfiber (100 % polyester) / 5 % polyamide
Dimensional stability

-2,2 % in length | -1,1 % in width
Abrasion

The product does not cause damage to the surface if the manufacturer's recommendations are followed by the user
Packaging

Box of 10 bags of 10 Ultimate Dx1
Construction

V.M.P. Technology (Velvet Microfiber Polyester)
Composition

95 % microfiber (100 % polyester) / 5 % polyamide
Dimensional stability

-2,2 % in length | -1,1 % in width
Abrasion

The product does not cause damage to the surface if the manufacturer's recommendations are followed by the user