Ultimate

DeLux
New Generation triple action microfiber mop (washing, drying, absorbing)
One day a buyer for a famous American fast food chain said to us: "I'd like a mop that cleans more than 100 m² in one go, absorbs half a litre of soft drink that has been spilled on the floor, doesn't fall off the trolley in the dining room among the diners, dries the floor directly after washing, doesn't require the use of "wet floor" signs, fits easily under tables and chairs, washes both parquet and tiles and degreases floors so they're not sticky".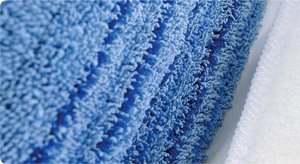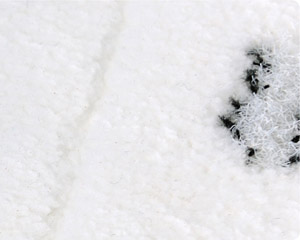 That's all?? Easy! As textile engineers, we stopped eating and sleeping and thought only about meeting this challenge… and how hungry and tired we were!
In short, we had all the elements to create an exceptional product as we knew our customer's expectations.
After a few weeks of prototyping and trials, we launched the DeLux mop (a nod to this famous sandwich). The first generation fulfilled all the customer's criteria but was a bit heavy and bulky. A few years later, we submitted our ULTIMATE patent, which enabled us to put the final touch to this project.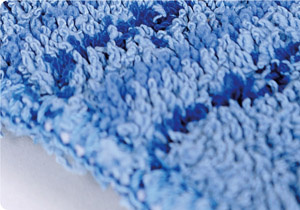 The latest addition, ULTIMATE DeLux,has all the advantages of DeLux plus the patented ULTIMATE technology. With more microfiber, the ULTIMATE technology boosts efficiency and makes it glide easily over the floor. The front of the mop, with alternating design, removes dirt while the 100 % microfiber rear holds it in. In addition to making our customer's dreams a reality, the ULTIMATE DeLux is now light and compact. A simple demonstration will win you over!
Packaging

Box of 5 bags of 2 Ultimate DeLux
Absorpti on rate (water)

1 Ultimate DeLux mop for 1/2 L of solution
Composition

48 % microfiber (100 % polyester) / 39 % microfiber (80 % polyester / 20 % polyamide) / 8 % polyester / 5 % polypropylene
Dimensional stability

-3,9 % in length | -3,6 % in width
Abrasion

The product does not cause damage to the surface if the manufacturer's recommendations are followed by the user
Lower washing temperatures help protect the environment
Wash with a suitable washing powder at 60°C and at maximum washing temperatures as necessary
Matching products
Premium aluminium frame with movable ball joint for easy access under furnitures