Ergoslider
Premium aluminium frame with movable ball joint for easy access under furnitures
The Aluminium Frame, its big brother, has been marketed from the getgo (July 2000) with all the timeless standard features. It was decades ahead of its time! And is just as successful now, even with the arrival of imported copies from Asia and cheap plastic products. Ergoslider includes all these features and more.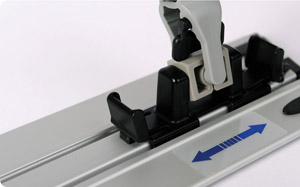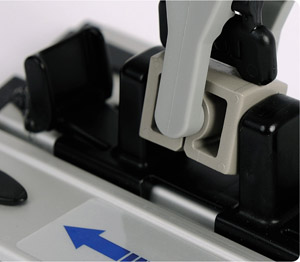 Durability: Ergoslider has been tested daily by professionals for more than 15 years.
Lightweight: aluminium; not only is Ergoslider light but also one of the slimmest on the market; it's very flat and therefore easy to maintain.
Modularity: the frame unit is made up of separate pieces, easily replaceable and stocked by DECITEX (Velcro strips, Velcro top, nozzles, ball joints).
But you know all that already!
The latest addition, Ergoslider adds an additional movement to its ball joint. In addition to being patented, allowing easy insertion into all handles from the range, turning 360° and easily locking for vertical cleaning, it now slides along the frame to inch its way under furniture!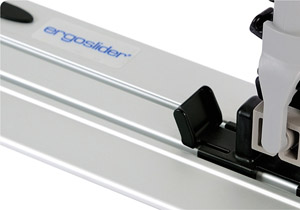 No more backache, no need to bend over, stoop or exert yourself, a simple nudge with your foot and the ball joint moves to the end of the frame, offering length and tackling the most hard-to-reach places under furniture. Nudge it again and the ball joint naturally returns to the centre for ordinary use.
Packaging

Box of 10 frames
Composition

Plastic and aluminium
Counterpart

Special connecti on for an easy inserti on and a blocking rotati on - Sliding of the connection to facilitate the access to clutt ered spaces - Changeable Velcro tabs