Ultimate M600
Microfiber mop for steam cleaning and smooth floor surfaces
M600, its big sister, is above all known as absorption mop capable of leaving very little water on the surface. Its 100% microfiber intermediate layer guarantees additional absorption for cleaning large surfaces. It's the ideal mop in combination with a steam cleaner or on shiny tiles.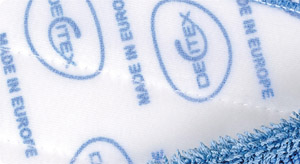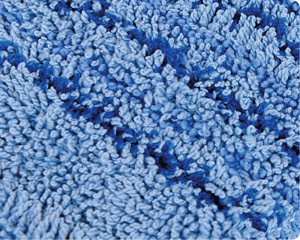 The latest addition, ULTIMATE M600 therefore has all the advantages of M600 plus the patented ULTIMATE technology. No need to choose between performance and ergonomics: with more microfiber, the ULTIMATE technology boosts efficiency and makes it glide easily over the floor. The front of the mop, with alternating design, removes dirt while the 100% microfiber rear holds it in and absorbs grease.
The ULTIMATE M600 has a triple composition! In addition to the dual composition of the M600 (50% microfiber for absorption and removal of dirtand 50% polyester to make it glide easily over the floor). ULTIMATE M600 uses a polypropylene yarn to enhance the mechanical effect and remove the most stubborn dirt.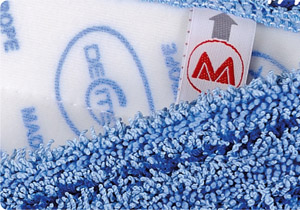 Available in four strip colours, which can be allocated by work area or facilitate logistical redistribution within your department.
Unlike most players in this market, DECITEX manufactures ULTIMATE M600 in Europe in its own workshops. That's how we guarantee the quality of ULTIMATE M600 year after year.
Packaging

Box of 10 bags of 10 Ultimate M600
Construction

Warp knitting
Absorption rate (water)

2 Ultimate M600 for 1/2 L of solution
Composition

70 % microfiber (80 % polyester / 20 % polyamide) / 20 % polyester / 10 % polypropylene
Packaging

Box of 10 bags of 10 Ultimate M600
Construction

Warp knitting
Absorption rate (water)

2 Ultimate M600 for 1/2 L of solution
Composition

70 % microfibre (80 % polyester / 20 % polyamide) / 20 % polyester / 10 % polypropylène
Packaging

Box of 10 bags of 10 Ultimate M600
Construction

Warp knitting
Composition

70 % microfibre (80 % polyester / 20 % polyamide) / 20 % polyester / 10 % polypropylène